| | | |
| --- | --- | --- |
| | SL4NT 3.2 | |
End-of-Sale Notice Effective Date: 2022-06-01
Licenses for our trialware product SL4NT can no longer be purchased.

Licensed customers will continue to receive support for the product, under the condition that the product is used on a supported Windows platform: up to and including Windows Server 2012R2.
You may use SL4NT for free on an arbitrary Windows platform, by applying the following license data to an installation of SL4NT:
Licensee: "Post-EOS-User" (case-sensitive)
Key: "AHSXWXCG"
Please note that we will no longer provide support for SL4NT (with the exception of licensed customers mentioned above).
SL4NT is an application which implements a syslog daemon. The purpose of a syslog daemon is to listen for incoming syslog messages from syslog senders - like Unix hosts, routers, firewalls, etc. - and then decode and process the messages for logging and notification purposes.
Features:
Implemented as a multithreaded service
Support for asynchronous message processing
Receiver engine supports listening on multiple UDP/TCP ports
Rule based message processing
Support for trigger threshold settings
Supported rule conditions:

Facility
Priority
Source IP-address
Destination IP-address/port
Receive time
Substring search in message text/Regular Expression matching
Custom evaluator object (implemented as an ActiveX object)

Supported rule actions:

Log message to Windows NT Event Log (Application, System)
Log message to log file
Run program
Send network alert

(requires Windows NT/2000/XP/Server 2003)

Send email (SMTP) message (MIME 1.0 compliant)
Forward syslog message to another syslog daemon
Log message to an ODBC database
Forward message to viewer (any Telnet client)
Execute custom handler (implemented as an ActiveX object)

Completely customizable log format
Support for automatic log file purging based on file size
Support for automatic creation of new log files periodically (hourly, daily, weekly, monthly) or when a particular file size has been reached
Support for IP-address to hostname resolution with caching for resolved mappings
Performance Counter Extension
MMC Snap-In (SL4NT Manager) for local and remote administration
Support for generating syslog messages for testing or troubleshooting purposes
Support for saving/restoring service configurations to/from text files
Support for configuring the syslog service using configuration files
| | |
| --- | --- |
| Supported OS: | All Windows versions since Windows NT 4.0, up to and including Windows Server 2012R2. For SL4NT 3.2 to be supported on Windows Vista/Server 2008 or later, SL4NT 3.2 Service Pack 1 must be applied. |
| Software Type: | Trialware (60 days) |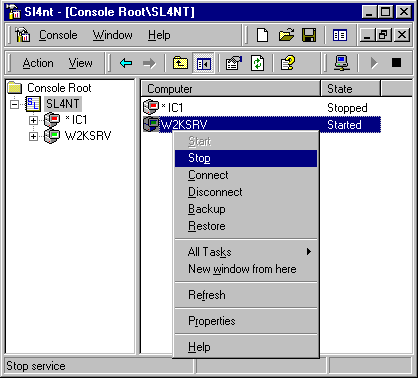 File
Size
Content
SL4NT32.ZIP
1.09 MB
SL4NT.CHM
258 KB

Documentation (HTML Help) only. This file is included in the product distribution file SL4NT32.ZIP. You will download this file in case that you want to take a look at the documentation before installing the product.
Note: If you download the documentation separately, you must unblock the file after downloading it.

SL4NT32SP1.ZIP
320 KB

SL4NT 3.2 Service Pack 1. SL4NT 3.2 SP1 must be applied for SL4NT 3.2 to be supported on Windows Vista or later.

SL4NTSDK.ZIP
111 KB

SL4NT 3.x Software Development Kit (SDK) - Revision 2. You only need the SL4NT SDK if you want to develop your own custom extension objects.

RFC3164D.ZIP
12 KB

RFC3164 Decoder. Implementation of a custom rule evaluator object for parsing and decoding the message text of syslog messages according to RFC3164. The source code for this custom rule evaluator object is contained in the SL4NT 3.x SDK.
Uninstall Instructions
SL4NT can be uninstalled by:
Open the MS Windows Control Panel
Select 'Uninstall a Program'
Find SL4NT in the list of programs and double click on it
Click the 'Uninstall' button in the SL4NT Uninstall window